Navigation: Listeners: Broadcasters:

U.S. ASCAP, BMI, SESAC, SoundExchange, & SOCAN (Canada)
Internet Radio PRONETLicensing

You can get your Internet Radio Station legal today!
For your listeners in the U.S. and Canada
You have to put your $.10 (really $.0018) in the jukebox to play songs!
Our license covers you and includes your music reporting and your royalty, you pay the performance fees. For now with rates - Our prices are with no ad, pre-inserts, or video commercial inserts added to our music players or use your music player. This allows you to sale your own advertising to your customers.



Have a question send us an E-mail or click if you need a stream host provider try this provider or here's another.
Welcome For-profit and Non-profit streamers - We are here to help you.
Includes Bonus, Instant and Legal Apps (IOS and Android) for all your Shoutcast and Icecast-KH streams. Your App display your station only.
PRONETLicensing coverage includes blanket coverage and reporting for SOCAN (Canada). We Make It Easy! Affordable Music Licensing And Reporting In Five Easy Steps:
1) Sign up for our service.
2) Enter your station and stream data. See our F.A.Q. page for more information.
3) We explain the minor website modifications you MUST make to meet copyright rules. See our F.A.Q for more information. Use our player or yours (player must be hosted under our domain.)

4) Once steps 1-3 are completed, install our PRONETLicensing Validation Banner/Link on your website. File your monthly Gross Revenue and Expense reports using our online report form. We take care of the rest! For full details see our F.A.Q.
Features Included At No Extra Charge:
Custom Content Folder included Free! This allows you to meet copyright law and brand your player and links.
Our Agreement allows you to run In-Stream Commercials if you wish.
Prompt & Friendly Customer Service.
Ad
See another player available for purchase below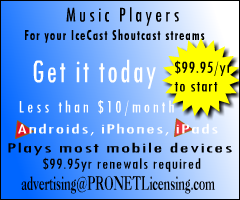 Demo available click to listen now